AirBOX V Hand Dryer
FREE Delivery on this item!
Economy meter

4000 dries per £1

kW
1714 dries per £1

kW
How is our ECO meter calculated?
We base all figures on a 10 second dry time
We calculate the cost per hour
Avg kW x Price per kWh
We calculate the cost per cycle
Number of dries possible in one hour (360) / the cost per hour
We calculate the total dries per £1
£1 / The cost per 10 sec cycle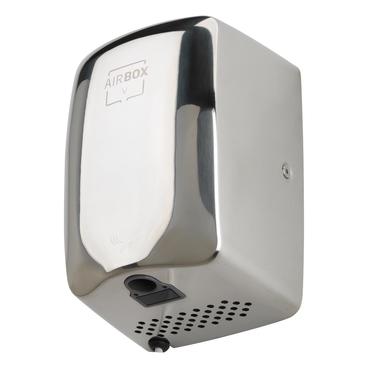 enlarge
FREE Delivery on this item!
Ultra small footprint
Brushed 304 stainless steel and enamel powder coated white
UK leading hand dryer supplier
Two year warranty on all units
Multi Buys Buy 3+ £99.74 per item (Ex. VAT)
Buy 5+ £94.49 per item (Ex. VAT)
Buy 10+ £91.87 per item (Ex. VAT)
Next Business Day Delivery £10 regardless of quantity
Order before 2pm
Product Info
Tech Spec
Downloads
The AirBOX V. Mini but mighty.

Low cost, high performance

Leading-edge dryer technology shouldn't cost the earth.

Despite the AirBOX V's fantastically low price, the quality of components used inside this dryer ensure that the unit runs effortlessly and offers the top-notch reliability that our customers rightly expect of our hand dryers.

Power that pays

Thanks to the powerful motor inside the AirBOX V, it can push out a drying speed of over 130mph, blasting wet hands dry in a matter of seconds.

That's no small feat for such a compact piece of washroom technology, and your budget will benefit directly from the low energy consumption and minimised drying times.

These factors combined result in massively reduced energy costs and greater customer satisfaction scores, with users spending next to no time drying their hands and going about their business.

A perfect fit

Featuring the same ultra small footprint as AirBOX H, this dryer is only a tad larger than an iPad, enabling it to fit into almost any conceivable space.

Taking up just 260 x 180mm of wall space, the AirBOX V is ideally suited to the busy washrooms within rail or air transport hubs, where constant crowds demand more than one or two dryers.

Box of tricks

The AirBOX V is full of hidden surprises that will improve your washroom user experience, and help you win the war on harmful bathroom bacteria.

There's an inbuilt UV lamp that chemically cleans the inside of the unit, reducing the build-up of bacteria and mould, making this hand dryer super easy to clean and maintain.

The integrated high efficiency particulate air (HEPA) filter removes dirt, dust and grime from the air inside the washroom, keeping users' hands clean and maintaining a hygienic environment.

Our two-year warranty

This hand dryer comes with our seal of quality approval and a two-year warranty, including free parts and labour should you need it repaired within the first year of purchase.
You May Be Interested In: