The Sterillo
Air sterilisation proven to kill coronavirus
Kills 99.96% of airbourne germs.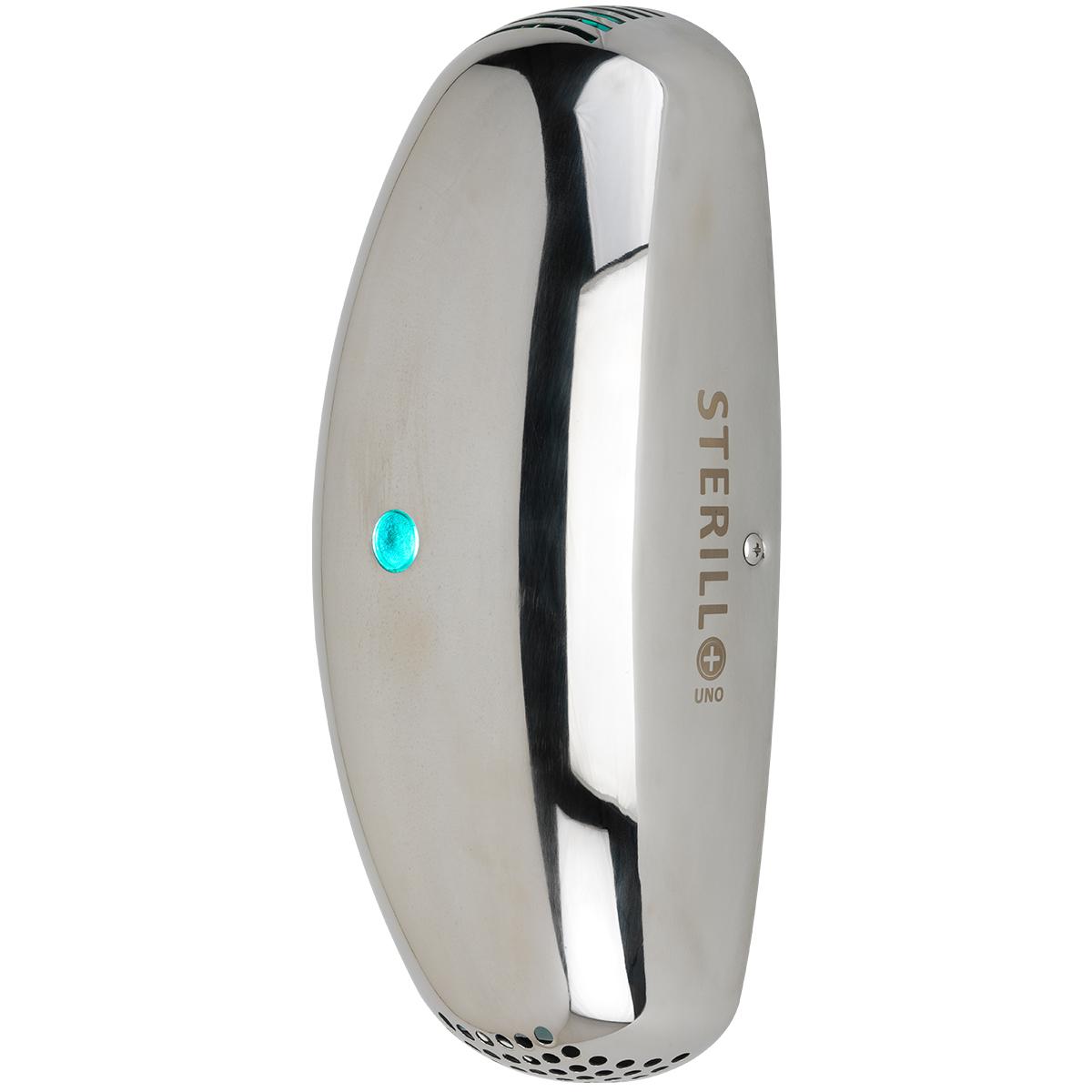 Sterillo Uno.
Air sterilisation that kills harmful viruses, bacteria and foul smells.
From £204.99 +VAT
Buy Sterillo Uno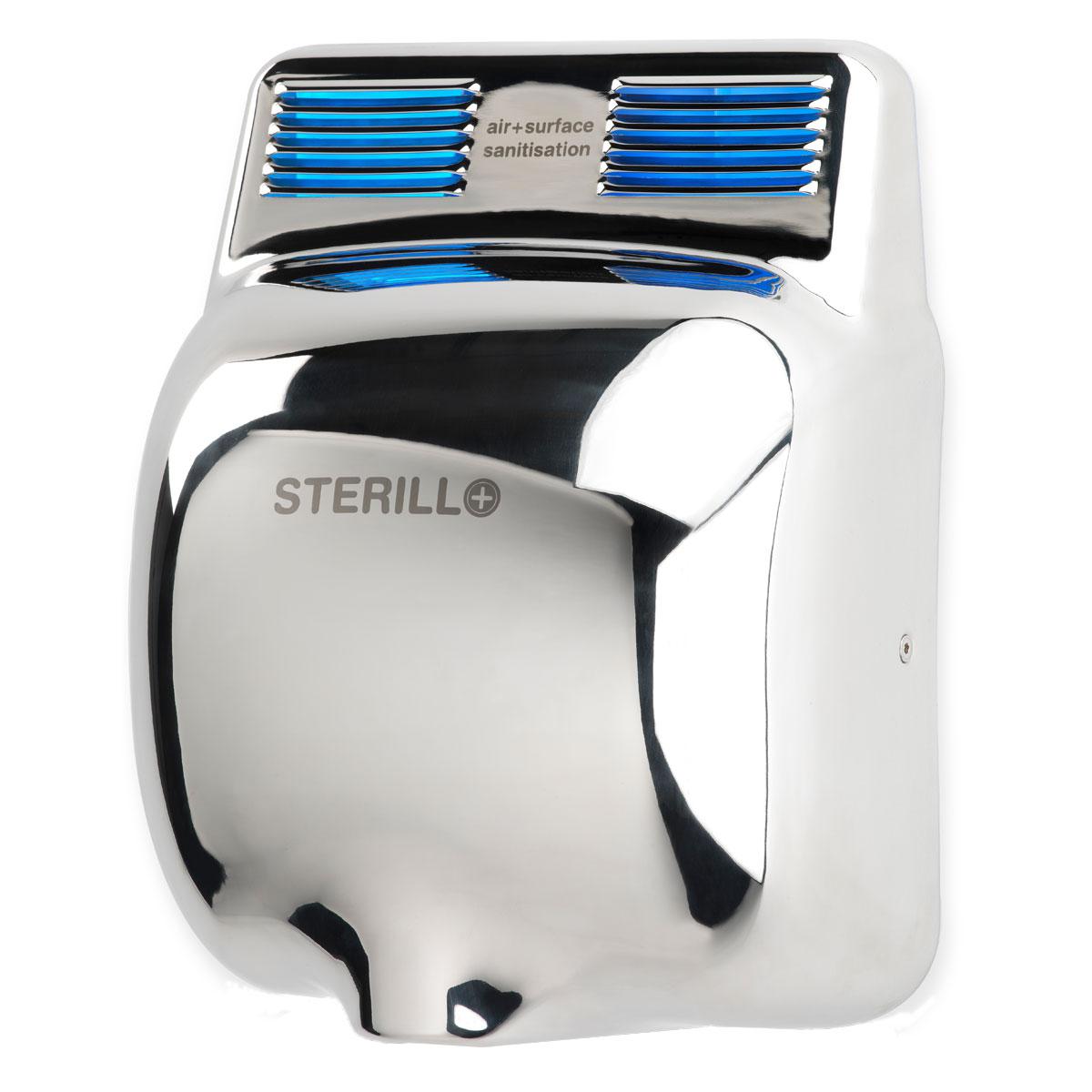 Sterillo Duo.
Combines the air cleaning technology of the Sterillo Uno with a High Speed RCO hand dryer.
From £399.99 +VAT
Buy Sterillo Duo
Designed and patented in the UK.

Designed for washrooms, offices, workspaces and schools to ensure the lowest possible transmission of germs and pathogens.
A revolution in washroom sterilisation, the Sterillo range was developed in 2015 as a solution to kill airborne (aerosolised) pathogens like norovirus and influenza that are especially prevalent in washrooms.
The Sterillo Uno is a state-of-the-art device that has been designed to draw in circulating air to its mirrored killing chamber where it is utterly sterilised using powerful germicidal UVC light rays. Extensive testing at the UK Governments PHE Labs at Porton Down, proved the Sterillo killed 98.9% of germs within 1 hour of being switched on!
The Sterillo Duo couples the state-of-the-art cleaning technology of the Sterillo Uno with the high performance, industry leading Kangarillo II ECO hand-dryer. The Sterillo Duo is the only hand dryer in the world capable of killing viruses like COVID-19. Reducing the risk of an outbreak spreading in your workplace.
UK Government Tested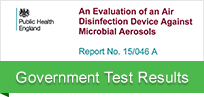 How does the Sterillo range kill Coronavirus and other diseases?
1

Thermally heated air is silently drawn upwards and into the Sterilloís mirrored and highly reflective light chamber.

2

Contaminated air is completely sterilised by powerful Germicidal UVC as it passes through the chamber.

3
Completely clean, uncontaminated air is forced out the top of the Sterillo and back into the room whilst more dirty air is drawn in beneath ready to be sanitised in a continuous cycle.
4
The Sterillo circulates all the air in a room up to 10 times in an hour using natural proven air thermal dynamics.
5
No moving parts, no noise, no danger and no maintenance apart from an annual lamp change*.
* The only maintenance requirement is to replace the virus killing lamp when the indicator lights turn red. Lamps last at full performance for a whole year.
There are no unpleasant odours at all

Dorchester Hotel, London

The world's most hygienic hand dryer

Rochdale News

...heightened cleaned smell and sanitation

HIX Restaurants
Product Info
Tech Spec
Downloads
The Sterillos UVC Germicidal light is proven to kill Coronavirus.

In our fight against the coronavirus, the Sterillo is the most essential washroom product available. Whether you are a restaurant, school or office business, the Sterillo is the ideal solution to ensure you are COVID safe. The Sterillo gives anyone entering your premises peace of mind that they are in a safe environment, an important factor in getting business back to normal.

The Sterillo is available with or without hand dryer functionality and sterilises air through a completely stand alone chamber 24 hours a day.

Almost no running costs Ė 2.5p per day!!!

Using a maximum of 7 Watts of power, the Sterillo uses so little energy, we estimate its annual electricity running cost to be under £10.00 per year.

A high power ECO hand dryer

We didnít couple just any hand dryer to make the Sterillo Duo. We combined it with our state of the art, industry leading ECO Kangarillo II.

It is capable of producing air speeds of up to 245mph and completely dries hands in 8-12 seconds. This matches the drying times of the top hand dryers in the world, making the Sterillo Duo an all-round fantastic option for any washroom.

Remove Toilet Smells

The Sterillo Duo hand dryer speaks for itself in terms of being the perfect pub or restaurant hand dryer choice for anywhere needing a high specification, workhorse, stylish hand dryer. The Sterillo Duo combines excellent hand drying power with patented room sanitising technology that silently remove nasty smells and malodours. Gone are offensive odours, and their causes that fester in the average washroom. You can have a pleasant smelling washroom thatís pleasure to use rather than being something customers suffer through.

In laboratory tests carried out by PHE* The Sterillo Duo removed over 99% of one of the most common infectious bacteria in the washroom. The full test report is available to download here. The Sterillo Duo concept is truly innovative and unique thanks to patented technology that allows the hand dryer to not only quickly and efficiently dry hands but also remove airborne bacteria*, leaving rooms smelling clean and fresh.

Does The Sterillo Duo Really Destroy Smells? Ask our customers:

Dorchester Hotel. Park Lane. London said the Sterillo had

"

made a huge difference to the atmosphere, there are now no unpleasant odours at all"
HIX Restaurants said "feedback from both upper management of the company, and restaurant guests of the heightened clean smell and sanitisation"

Here at Handy Dryers we are delighted to say that we are the UK's official retailer of the Sterillo Duo Hand Dryer. This fantastic technology is all wrapped in a stylish design in three different high quality finishes – black, stainless steel and white – meaning that not only will the Sterillo improve the smell of the washroom but also provide a stylish and professional finish.

The Sterillo Duo is available in 4 different sizes – the Sterillo Duo 5, 10, 20 and 30, suitable for washroom sizes of 5M² 10M², 20M² and 30M² respectively.

The Sterillo range uses long established technologies that can destroy airborne germs, mould and viruses- - therefore removing most washroom odours. Ultraviolet Germicidal Irradiation (UVGI) is a sterilisation method that uses UV light at sufficiently short wavelengths to break down micro-organisms by removing their reproductive capabilities and effectively destroying them.

Not only does the Sterillo Duo use UVC light technology to its fullest; it also features the amazing hand drying technology. With an ultra-quick dry time of 8-10 seconds, ECO sensors to test ambient air temperature and adjust air heater power accordingly and a powerful airflow of 110 metres/second means that the Sterillo's hand drying capabilities are second to none.

*Independent tests conducted by PHE – click to view

Operating Power

220-240 V, 50/60 Hz, 1.4 kW

Warm Air Speed Output

110 m/S

Air Output Temperature 40°C – Where Ambient Temp. below 24° - Automatically adjusted

Motor Type

600W, Brush Type, Dual Ball Bearings

Motor Overload protection

Motor assembly designed with over current fuse, replaceable.

Heater Thermal Protection

Auto Resetting Thermostat turns unit off at 85°C {185°F};
Thermal fuse cut unit off at 142°C {288F}

Drying Time

8 - 12 seconds

Circuit Operation

Infrared Automatic, self adjusting

Sensor Range

51 mm to 330 mm, adjustable;
Standard 150mm +20 mm

Timing Protection

60 seconds auto shut off

Unit Size

335 mm W x 410 mm H x 172 mm D

Warranty

1 year (upgradable to 3 years at no cost)

Noise Level (at 1m)

79 Decibels