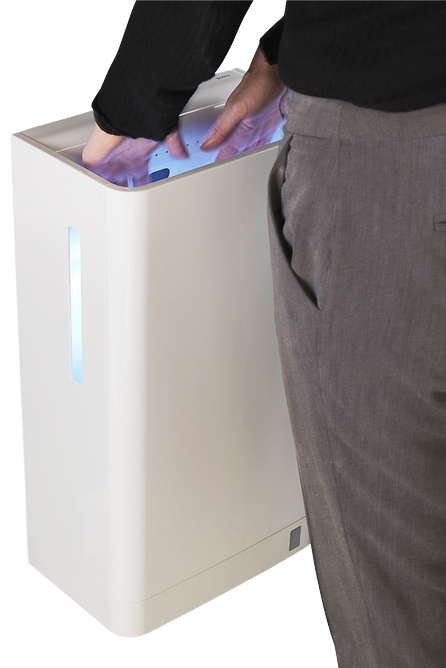 Manufacturers of the quietest hand dryer in the world
The signature of a truly superior washroom, TOTO hand dryers are developed by one of Japan's most iconic manufacturers – and the manufacturer of the quietest hand dryer in the world.
Indeed, TOTO's hand dryers are considered some of the most sophisticated ever invented. Synonymous with cutting-edge bathroom technology. TOTO is the first and only washroom supplier to have a museum dedicated to their innovation.
Discover more
Introducing three truly revolutionary hand dryers, now available at

Recessed Hand Dryer

The concealed hand dryer

The TOTO TYC604 is the only recessed hand dryer in the world to collect waste water. A concealed 0.95l drip tray subtly gathers excess water, keeping bathroom walls and floors moisture-free.

Touchless technology and an easy-to-clean stainless steel casing compliment the TOTO TYC604's tech to make it an attractive and impeccably hygienic machine. The TYC604 affords users the near-clinical sterility expected of any stylish washroom.

MORE INFO

Drip Tray Hand Dryer

The splash-prevention hand dryer

Designed to prevent water droplets contaminating spotless washroom walls and floors, the TOTO TYC324W's integrated 0.7l drip tray is precisely contoured to direct moisture away from the user.

Scraping all excess water from wet hands within 9 seconds, the TOTO TYC324W is a super speedy performer. This outstanding dryer finds instant favour with your customers and helps you keep on top of your energy bills.

MORE INFO

Blade Hand Dryer

The quietest hand dryer in the world

With all the pristine minimalism you'd expect from Japan's iconic washroom manufacturer, TOTO's enclosed, hands-in TYC424W rises just 186mm from washroom walls.

A smooth, wipe-clean polypropylene casing, automatic sensor technology and removable side panels keep your bathroom surroundings free from bacteria.

Emitting as few as 54dB of sound while operating, it's the quietest hand dryer in the world.

MORE INFO
Buy TOTO's three revolutionary hand dryers at



About TOTO
Why TOTO
Downloads
The quietest hand dryer in the world

Where some hand dryers roar, TOTO hand dryers whisper. Offering unrivalled power without demanding attention. The TOTO hand dryers emit a gentle 54–58 dB of noise while operating. To the human ear, that's about the same noise level as the gentle murmur of background conversation. The TYC424W hands-in hand dryer is the quietest hand dryer in the world; with the TYC604 and TYC324W just behind.

Despite their subtlety, TOTO hand dryers remain fierce. Swiping the skin of excess moisture within 10 seconds. TOTO ultra-quiet hand dryers are unsurpassed in their efficiency. Indeed, they're some of the least costly dryers in the world to run.

Europe's most sought-after hand dryer

Only seen in Europe's most sumptuous establishments, TOTO blade dryers instantly give luxurious washrooms the upper hand.

The preferred washroom brand of five-star hotels, luxury resorts and elite institutions. TOTO hand dryers are a relative newcomer to the European market – but they're already gracing some of the most enviable addresses in the world.

Some of the establishments benefiting from TOTO technology include:

Claridge's Hotel, London
The Louvre Museum, Paris
The Hurlingham Club, London
Hotel Park Hyatt, Zurich
The Komische Oper, Berlin

Installing a TOTO high speed hand dryer not only adds polish to your bathroom experience, it means yours is one of a highly select group of establishments providing such advanced facilities.

Handy Dryers offers the best place to purchase revolutionary TOTO products in the UK

Handy Dryers are proud to have been selected as one of TOTO's trusted UK suppliers. We are the only supplier in the country to sell all three of TOTO's iconic hand dryers.

The highest level of hygiene

Developed by discerning Japanese engineers, TOTO hand dryers offer an unparalleled level of hygiene control. Each of these blade dryers includes a clever integrated drip tray which is ultra-discreet, and easy to empty, sterilise and re-insert with simple efficiency.

Touch-free, and finished in either stainless steel or robust polypropylene, TOTO hand dryers are incredibly easy to keep clean.

The best money can buy

With their revolutionary design and lightening-fast drying times, TOTO technology has long been regarded in Japan as the pinnacle of washroom design excellence.

That reputation has already started to earn TOTO products a strong presence in some of Europe's most innovative developments – from the renovation of The Louvre Museum's Hall Napoléon in Paris, to London's latest Aston Martin boutique at No. 8 Dover Street.

Sponsorship of the 2018 Rugby World Cup and 2020 Olympics further bolsters the TOTO brand.

Futuristic looks aside, a TOTO hand dryer really sets your washroom facilities apart. Elevating your washroom from merely functional spaces to environments of pure luxury and aesthetic beauty.